There is no offseason for the DTC
, thus there is no offseason for the haters of the DTC.
Probably the greatest picture taken of the DTC Captains, and probably the greatest Photoshop of the DTC Captains. I think it is safe to say, "Jacs" stands for jacks off, because anyone that spends that much time photoshopping the DTC, cannot possibly have ever seen a vagina in person.
More "masterpieces" after the jump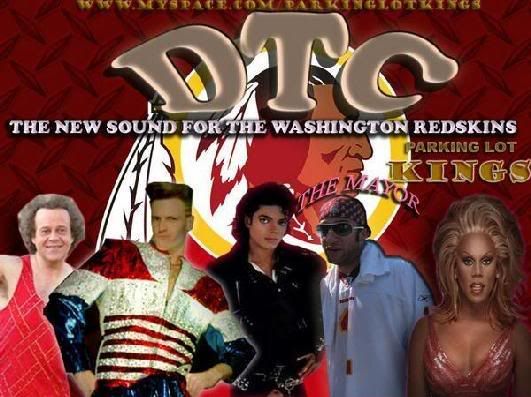 This picture is awesome. The only thing that could make it more awesome, is if I was wearing that red, white, and blue glitter suite myself, and Richard Simmons was wearing the
Presidents bullet proof vest.
And I will end it with my all time favorite. A combination of a Redskins victory in Philly, the resurgance of
Hit a Motherfucking Eagle fan
, and
Dan Steinberg
visiting us for the first time brought out the best in Philly!
DEAD TREE GROUP??!!! saw ZERO Eagle fans step on F-51 pavement.
One Eagle fan
disputes this claim however.