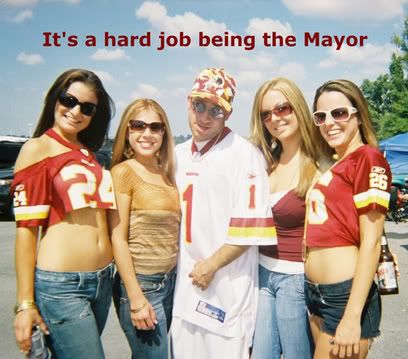 A few weeks ago, I renamed my blog to Everybody Hates the Mayor.
Apparently
for good reason.
Yesterday I was emailed a link to
some Denver area blog
that decided I was the front runner for an upcoming award.
Yes NFL fans. I have been nominated for "Most
Douchiest
Douchebag
award" for 2008.
This by world renowned blogger,
Joe Tone
. Never heard of him? Join the club. He writes for
Westword
. What was that? You
haven't
heard of that either? You just joined 2 clubs today!
Obviously he has a loyal reader base, and when I say loyal reader base, I mean
Internet
nobodies
that know who I am and what the
DTC
is.
Yep. The same
commenters
that are telling me, I never miss "a mention of myself" but seem to also never miss a mention of myself. How ironic.
But hey. I might win an award. This is cause for celebration.
Break out the high quality chronic, the cheap liquor and the
Oxycontin
.